Basses of The Doorway Singers
Eric Baskerville
Eric has been a Doorway member since 2015. He graduated from Norview High School where he sang with the Varsity Singers for all of his four years there, and is currently working toward his B.A. in Choral Music Education at Old Dominion University. He keeps himself busy with Concert Choir, Jazz Choir, and the F. Ludwig Diehn Chorale, and was also selected as First Delegate for All State Chorus as a Bass in 2015. Along with singing, Eric works as a Library Assistant in the Diehn Composers Room at the university.
Westley Benson
Westley joined Doorway in 2017 just in time for the holidays! He graduated with a Bachelor of Music in percussion performance from Peabody Institute at Johns Hopkins University and now keeps himself busy teaching private piano lessons. He is also a resident teaching artist with the Soundscapes program throughout the fall, and works as the Director of Music at Global Outreach Church in Virginia Beach.
Paul Simmons
Paul (Music Director) has been a member of Doorway since 2007, and has taken off running and hasn't looked back. He enjoys singing all the programs, but especially Swing and Dickens' Christmas. He grew up in Virginia Beach and his musical background is mainly in church choirs, as well as singing for fun with his three brothers growing up (lots of Beatles music!).  He is always on the lookout for new music to add to Doorway's repertoire. He is happily married (sorry, ladies) and he and his wife are proud parents to one daughter who graduated from VCU.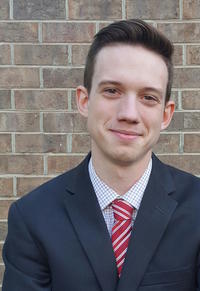 Jaron Stevenson
Jaron (Technical Director) has been a Doorway member since 2014. He is currently studying at Old Dominion University, majoring in Modeling & Simulation Engineering, and minor in vocal performance. These days, Jaron stays busy helping Doorway record soundtracks, making us sound good with his editing skills!