Sopranos of The Doorway Singers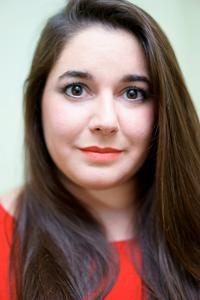 Brittany Agrillo
Brittany has been a Doorway member since 2015, but is no stranger to music! Since graduating from the music program at Wake Forest University several years ago, she dived head-first into performing locally. In addition to performing with Doorway, she regularly plays at various venues at the Virginia Beach Oceanfront with Aaron Firestone, and is also a competitive ballroom dancer. You may have seen her in the ensemble of The Wedding Singer (Generic Theater) or as Tracy Turnblad in this year's Hairspray (LTVB). This Could Be You
Doorway will be holding auditions for soprano and bass parts on Monday, Feb, 4th. We are also in search of a beat boxer! If you are interested, please send  an email to TheDoorwaySingers@gmail.com to be assigned an audition slot.
Auditionees will be assigned music from one of our sets to prepare, and will have their range tested. There will also be a short dance audition. For more information about this great PAID social group, contact us today!
Kerri Hardwick
Kerri has been a Doorway member since 2004. She has a Bachelor of Arts in Music from Virginia Wesleyan College and is a certified THROGA instructor. Kerri teaches private voice lessons and leads worship at The Lampstand in Newport News, VA. You can also see her performing with Young Audiences of Virginia and All Things New. For more information about her music, check out kerrihardwick.com.
Katie Matthews
Katie (Costumer, Videographer) joined Doorway in the fall of 2017.  She graduated from Princess Anne High School in 2013 with an advanced studies diploma and dove straight into performing, which she has done in both community theater and the professional sphere for nearly seven years. Katie enjoys a good cup of tea, a challenging sewing project, and, of course, singing! You may have seen her in the ensemble of The Wedding Singer (Generic), Anne Egerman in A Little Night Music (LTN) as well as her standout performance as Enid in Legally Blonde.  http://kmariematthews95.wixsite.com/home