Sopranos of The Doorway Singers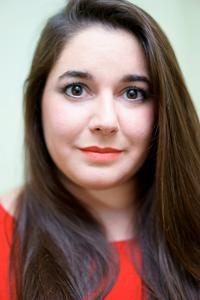 Brittany Agrillo
Brittany (Choreographer) has been a Doorway member since 2015, but is no stranger to music! Since graduating from the music program at Wake Forest University several years ago, she dived head-first into performing locally. In addition to performing with Doorway, she regularly plays at various venues at the Virginia Beach Oceanfront with Aaron Firestone, and is also a competitive ballroom dancer. You may have seen her in the ensemble of The Wedding Singer (Generic Theater) or as Tracy Turnblad in Hairspray (LTVB).
Jackie Alazas
Jackie has been a member of Doorway since 2019 and is a graduate from Regent University's M.F.A. in Acting program. There she played Juror Five in Twelve Angry Men, Meg/Clarissa in Little Women, and Lady Capulet in Romeo & Juliet. Roles she has played outside Regent University include Della in Gifts of the Magi (GEAR in Cape Charles), Claire in Proof (Generations Theatre Company), and the Fool in King Lear (Shakespeare on the Lawn at the University of Virginia). When she is not singing or acting, she likes writing comedy sketches and watching local theatre.
Ciara Alexander
Ciara joined The Doorway Singers in February 2019, but from an early age, she knew that she wanted to sing and discover the endless possibilities of being creative.  She was able to nurture, grow, and develop her craft while attending Henrico High School's Center for the Arts Program where she studied all things music and Musical Theater. In 2014, Ciara graduated Magna Cum Laude from Norfolk State University where she received her Bachelors in Music, emphasis in Voice.  Ciara currently works for a nonprofit organization called Soundscapes where she teaches music and social skills to beginner-level students.  She also leads praise and worship at Favor Nation Church in Chesapeake. When Ciara isn't singing or teaching, she is busy working on a sewing project, producing/mixing in Logic Pro X, playing guitar, or best of all--spending time with her husband and son.
Melissa Sharff
Melissa joined Doorway during Christmas of 2019. After majoring in music education in college, she became a school teacher and taught for 10 years. She participated in and led church worship during this time, and after her husband joined the Navy, she began to move around quite a bit. She and her family finally settled in Hampton Roads, and she is currently homeschooling her daughter while reliving her love of music through this group.